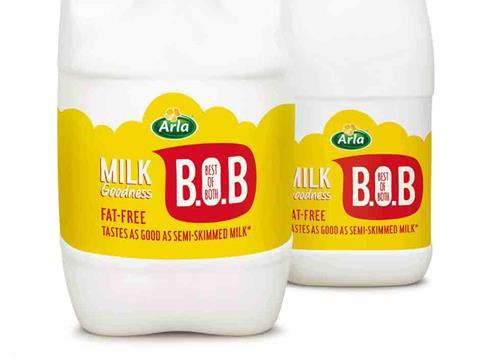 Arla is adding a 'yellow top' to the traditional red, green and blue milk line-up and taking inspiration from the bread category with the launch of a new 'best of both' milk.

Best of Both promises the fat content of skimmed milk with the taste of semi-skimmed; it goes on sale nationally on 11 January in two-litre and one-litre formats (rsp: £1.50 and £1 respectively), and comes in a bottle with a yellow top.

Arla said Best of Both was a "unique" filtered skimmed milk with added natural milk protein to deliver "a taste and texture that is as good as semi-skimmed and fat-free milk". It contains 4.7g of protein per 100ml, compared with 3.4g to 3.6g per 100ml in standard skimmed milk, and is made using the same PurFiltre filtration process as Arla's Cravendale and Big Milk brands.

The launch will be backed by a £7m campaign to position Best of Both as a fourth milk alongside full-fat, semi-skimmed and skimmed.

Some 49% of semi-skimmed buyers say they would buy skimmed but don't like its texture, while 33% say they don't like the taste, according to Arla research.

Arla was "perfectly positioned to launch something genuinely pioneering", said its vice president for marketing, Sarah Baldwin.

"Best of Both is one of the biggest innovations we have created in the milk category. With organisations such as Public Health England encouraging people to consider drinking lower-fat milks, we believe it will be a popular choice."

Value sales of skimmed milk fell by 5% last year to £317.6m . By comparison, whole milk fell 2% to £629.7m, and semi-skimmed fell 4.1% fall to £1.71bn [Kantar Worldpanel 52 w/e 6 December 2015].

In bread, Hovis has been selling a "best of both" loaf of brown bread with the look and feel of white since 2001.