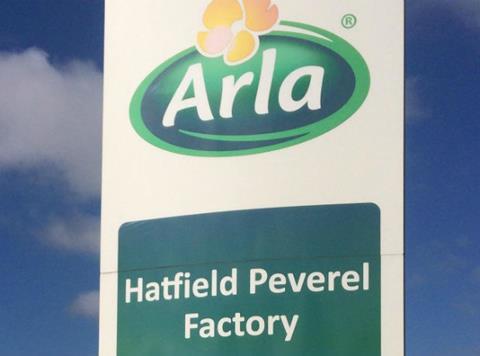 Arla plans to close its fresh milk processing operation at Hatfield Peverel dairy in Essex following an "extensive review" of its UK operations.
The co-op today announced its intention to close the site, which processes fresh milk for Arla's Cravendale and Big Milk brands as well as own-label fresh and organic milk for UK supermarkets, by the end of July 2016 - with the potential loss or relocation of 200 jobs.
Under the proposal, the bulk of Hatfield Peverel's processing would be transferred to Aylesbury, which has the capacity to process one billion litres of milk a year following Arla's recent £150 million investment in the site. Smaller volumes of milk would be delivered to other Arla fresh milk dairies depending on customer's requirements.
Arla also wants to outsource outbound logistics at Hatfield Peverel to Bidvest Logistics, which would result in the transfer of another 32 employees.
Both proposals are subject to a full consultation with the affected staff and their union representatives.
"We are committed to supporting affected colleagues at this difficult time and will do everything we can to support them in their search for suitable alternative employment, either within Arla or elsewhere," said Dan Kolding, senior vice president, supply chain, Arla Foods.
Workers union Unite represents 137 staff at the Essex site. Regional officer Mark Barter branded the proposed closure as "very bad news" for the staff and their families, and said Unite would demand a "full explanation" as to why Hatfield Peverel had to close.
"There is not much similar employment in the area and the commute to Aylesbury in Buckinghamshire would be far too much on a daily basis," he said. "We will want to investigate every opportunity to save these milk production jobs."