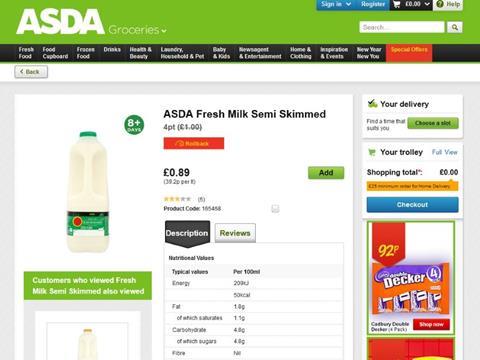 Asda has fired a new salvo in the supermarket price war by slashing the price of four pints of milk to 89p.
The retailer today (5 January) dropped the price of own-label four-pint bottles of fresh skimmed, semi skimmed and whole milk under a 'rollback' promotion.
Asda is the first of the big four supermarkets to sell four pints of milk at the 89p price point. Iceland announced a reduction to 89p in October, while Aldi cut the price of four pints on promotion from 95p to 89p in November [Brandview].
"Customers expect great value from Asda especially after Christmas when they are feeling the pinch," said a spokesman for the retailer. "This is why we have invested around £300m in lowering prices for our biggest ever Rollback, which includes milk."
The retailer added it was "proud to support British Dairy farmers" and said it had "a positive record in UK dairy sourcing for both milk and cheese". "All our fresh milk is Red Tractor stamped as 100% British and our own-label butter and British cheese range uses British milk," said the spokesman.
Despite Asda's claims of supporting British farmers, NFU dairy board chairman Rob Harrison said the price cut had left the board "incredibly angry and frustrated".
"This has a continued detrimental impact on the dairy industry by devaluing a high quality product that farmers work tirelessly to produce year round," he added.
The Asda cut comes just days after First Milk became the latest major milk processor to announce it was reducing the price it pays its farmers. The Scotland-based dairy co-op said on Friday (2 January) it would reduce its manufacturing price by 2.43 pence per litre to 20.47ppl from 1 February, with its liquid pool price dropping 1.6ppl to 20.1ppl. First Milk chairman Jim Paice said global dairy commodities prices remained weak.