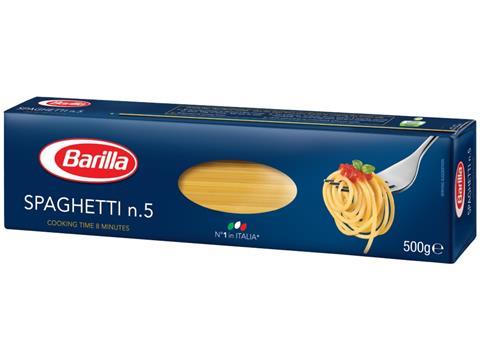 Italian pasta giant Barilla - a leading brand in countries such as the US and Italy - is launching a major push into UK supermarkets following a 10-year absence.

UK distributor Euro Food Brands will be rolling nine Barilla products into 800 Tescos next week, and plans to launch the brand's pasta sauces shortly.

The initial line-up includes spaghetti, fusilli, penne, tortiglioni, cannelloni, lasagne and tagliatelle (rsp: £1.60 to £1.99/500g).

Over the past decade, Barilla products have been available only to smaller UK retailers as the business - which has an annual turnover of more than £2.8bn - focused on larger, faster-growing markets such as the US.

But now the UK market offered "a golden opportunity" and had reached a size to justify further investment, CEO Claudio Colzani told The Grocer. "We believe Barilla can add significant value to the UK market by offering a true Italian pasta and pasta sauce brand that will encourage consumers to trade up," he said. Colzani predicted Barilla would generate up to £10m in UK sales by the end of next year.

Family-owned Barilla claims to be the number one pasta brand in the US, Italy, Switzerland and Greece, and the second largest in France and Sweden.

Barilla was a good fit with UK consumers who had taken Italian food to their hearts, said Kate Waddell, director of consumer brands at design agency Dragon Rouge. It would, however, need to invest in strong communication and deploy "hero products" to express its authenticity and succeed in a heavily promoted pasta aisle "shopped on autopilot," she warned.

Value sales across the £237.3m UK pasta market declined by 0.6% last year, driven by a 7.9% drop in own-label sales to £155.4m [Nielsen MAT 12 October 2013].