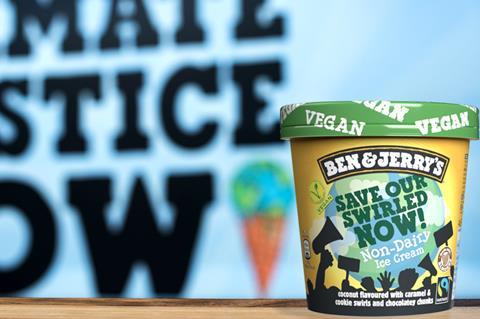 Ben & Jerry's has waded into the climate change debate.
The Unilever brand has renamed its plant-based Coconutterly Caramel'd to Save Our Swirled Now in a bid to raise awareness of climate change.
The brand's UK activism manager Cat Baron said Ben & Jerry's wanted to "do our part to address environmental concerns".
"You'll often hear us say, while climate change affects us all, it doesn't affect us all equally. The greatest impacts will be felt by marginalised communities such as people in poverty and people of colour – both here and abroad."
Ben & Jerry's had "a responsibility to use our voice to advocate for a better future for all", she said, adding the renamed ice cream came with an "all important, awareness raising message".
It will roll out to supermarkets from 1 October, with a portion of the proceeds from each tub going to The Climate Coalition.
The name change marks the latest in a string of political moves by Ben & Jerry's: the brand hit headlines in August for a Twitter thread challenging home secretary Priti Patel over her comments on refugees coming to Britain across the English channel.
Ben & Jerry's told the home secretary that "people wouldn't make dangerous journeys if they had any other choice".
The ice cream brand also launched an ice cream called Cone Together earlier this year, with a portion of the proceeds from each tub going towards NGOs across Europe that are working for change.