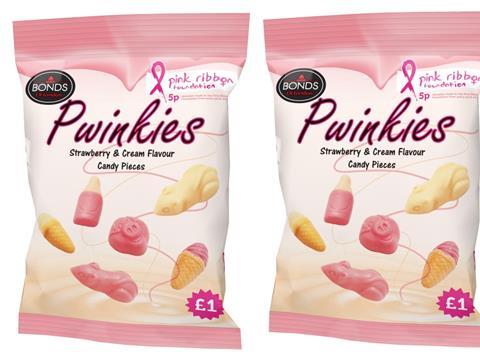 Confectionery supplier Bonds of London has developed a range of pink sweets to help raise money to fight breast cancer.
Five pence from the sale of each special-edition bag of Pwinkies (rsp: £1) will go direct to the Pink Ribbon Foundation, a charity that funds breast cancer research projects and provides financial support to UK charities. The packet includes 140g of strawberry & cream flavoured cones, bottles, mice and pig faces.
Each year 55,000 women are diagnosed with breast cancer in the UK, and Philip Courtenay-Luck, CEO of Bonds Confectionery, said The Pink Ribbon Foundation was 'very close' to his heart.
"I was delighted to recreate our most pink of sweets, the Pwinkies, to help raise awareness and, most importantly, money for the Pink Ribbon Foundation," he added.
The charity's head of corporate partnerships, Lisa Allen, added: "We thank Bonds for creating this special-edition sweet brand that will go towards some of our most important projects and help provide financial support to UK charities that relieve the needs of people whose lives are affected by breast cancer."