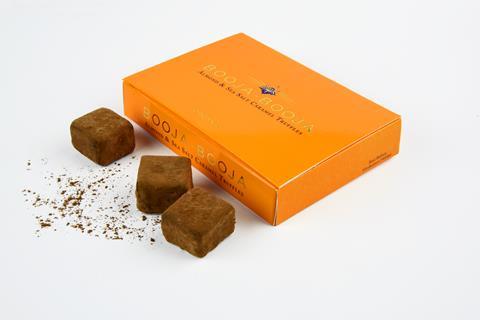 Artisan chocolate producer Booja-Booja has launched what it claims is the first 'chilled' chocolate truffles range.
The Chilled Chocolate Truffle Collection, rolling into Waitrose and independent retailers this week, comprises two selection boxes and six single-flavour boxes that each contain six truffles (rsp: £3.99 to £4.99).
Positioned as a rival to chilled premium desserts, the range - which is dairy, gluten and soya-free - is delivered and stored chilled and should be kept in refrigerated conditions below 5°C to ensure "maximum freshness", said the Norfolk-based business. It described the chocolate as a "revolution in take-home treating".
"Only a chilled distribution chain guarantees absolute freshness and that our new chocolates, which are delicate and sensitive to heat, will taste as good when customers receive them as they do when they leave our kitchen," said marketing co-ordinator Louise Collins.
The single truffle boxes come in Almond & Sea Salt Caramel, Rhubarb and Vanilla Fool, Fine de Champagne, Dark Ecuadorian, Raspberry and Hazelnut Crunch, while the selection boxes contain Around Midnight Espresso, Fine de Champagne and Kalamon Olive flavours or Almond & Sea Salt Caramel, Rhubarb & Vanilla Fool and Hazelnut Crunch variants.
To reflect the new range, Booja-Booja has given its website a "bright and vibrant" makeover.