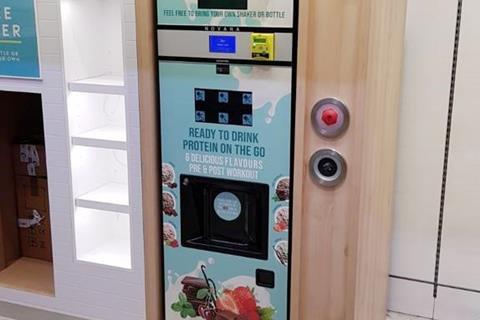 Boots has launched what is claimed to be the UK's first protein shake vending machine.
The machine, created by sports nutrition brand Bio-Synergy, creates freshly-made protein shakes for shoppers similar to an on-the-go coffee machine. It has initially launched into the retailer's Wellness & Health store in Manchester.
It offers six flavours including dairy and plant-based shakes, at £3 per drink. It decants the shakes into 50% rPET recyclable takeaway cups, but shoppers can also opt to fill their own reusable cups.
Bio-Synergy plans to expand the concept further into retail, forecourts and gyms over the coming months.
"Traditionally seen as a space for gym goers, athletes and sports people, it's amazing the varied customers we get now, who are choosing to enhance their wellbeing and fitness through sports nutrition and supplementation," said its founder Daniel Herman.
The brand is touting the machines as being more sustainable than "traditional RTD beverage packages", claiming "thanks to the use of 1kg protein pouches with a two-year shelf life, the vending machines save water, produce more drinks per kg and reduce waste".
It comes as the broader sports nutrition category was severely hit by the Covid-19 crisis: value sales of sports nutrition were down 22.6% over the 12 weeks to 9 August – a £9.3m drop compared with the same period the previous year. Within the category, powdered drinks were down 12.6% (£0.5m) [Kantar 12 w/e 9 August 2020].