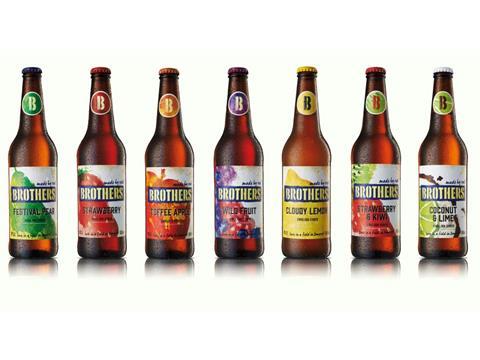 Brothers Cider is looking to tap the coconut water boom with the launch of a Coconut & Lime cider.
Rolling out on 11 May to Tesco, the new drink blends coconut water and lime with Brothers pear cider in a 500ml bottle (rsp: £2.29). It is described as a "unique taste experience" with a light, clean, refreshing taste.
The launch is part of a string of initiatives to mark the 20th anniversary of the brand, including the introduction of a limited-edition Strawberry & Kiwi flavour.
Brothers is also rolling out a new 'festival-inspired' look across the range and giving consumers the chance to win a campervan worth £25,000 on promotional packs available throughout the summer.
"As an independent, family-run business we are under constant pressure from bigger multi-national competitors so we are always looking for ways to innovate within the market," said MD Matthew Showering. "We have seen great success with our unique Toffee Apple cider and feel it's important to offer customers something different to the many red berry liquids now available.
"The new-look packaging and Coconut & Lime have been created following extensive research that has shaped our strategy, allowing us to deliver what our customers really want."