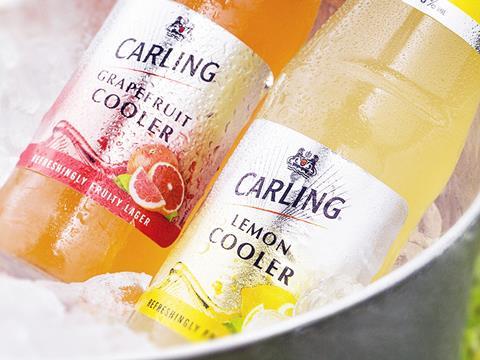 Molson Coors is ditching low-alcohol fruit beer Carling Cooler as it looks to simplify its lower-abv range.

The lower-abv beer category needed to be taken back to basics to ensure it was clear and easy for consumers to navigate if growth were to be maintained, said the brewer.

"To ensure that we do this effectively we have chosen to lead by example, and have taken the decision to simplify our portfolio," Carling brand director Jim Shearer told The Grocer.

The 2% abv Cooler brand, which launched in summer 2013 and is sold in lemon and grapefruit flavours, is being phased out over the ­coming months.

Adding that super­market beer fixtures often looked "cluttered and confusing", Shearer said Cooler did not serve a clear enough purpose in the Carling range, which also includes 2.8% abv fruit-flavoured Carling Zest.

"The driver for us is that we want to support retailers to use finite space to the best of their ability," he said. "What we can't do as a supplier, if we really want to be the first choice for our retail customers, is give them brands that are going to duplicate shopper needs, and contribute to the ­confusion on the beer fixture."

Carling said Zest had been the best-selling fruit low-abv beer since launching three years ago, and had sold 18.2 million litres [Nielsen 52 w/e 3 January 2015].

Value sales of low/no alcohol beer are up 13.9% to £24.3m on flat volumes, with value driven by AB InBev's Beck's Blue, which is priced at a relative premium.