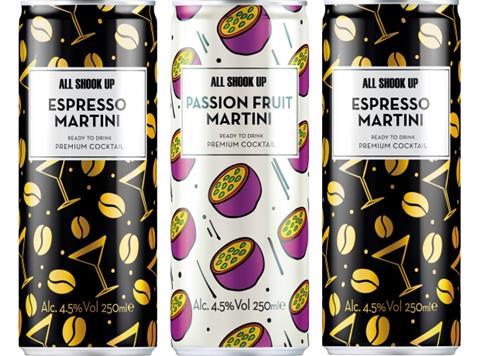 Craft has proved somewhat magical for the multiples. It has brought premiumisation to the alcohol aisles, with shoppers happy to pay more for premium quality and flavour.
Kantar Worldpanel data shows craft beer sales in the year to June 2018 were a record £135m, up 47% on the previous year. Supermarkets are also realising higher value sales, with just under 30% of craft beers bought on promotion compared with around 47% of world lager.
In the spirits aisles, premiumisation is driving the gin craze, with small batch, pink, violet or colour-changing gins all competing among shoppers willing to splash the cash on the latest unique innovation. The same movement is casting its magic across whisky and vodka as consumers favour limited-run drinks over ubiquitous global spirits brands.
Now, savvy supermarket buyers are looking at where else in their alcohol aisles they can add premiumisation to drive sales.
For some, it may seem surprising that the ready to drink (RTD) category is the one going premium.
Traditional RTDs are more typically associated with blue sugary liquids and low prices. For these reasons, they prove popular with a wide and loyal customer base - but they aren't immediately associated with the hallmarks of premiumisation. It's precisely for this reason that the category is ripe for quality-led innovation.
Forward-thinking brand owners realise that parts of the category have stagnated. Now, innovative brands are evolving the category with premium quality. We've seen the likes of Gordon's moving beyond the traditional gin & tonic to create a canned pink gin & tonic, which trades on the heritage of Gordon's original pink gin recipe from 1880.
Elsewhere, LoneWolf is bringing disruption to the category. Its canned gin & tonic comes in a 330ml tin and has a stronger abv. The size of the can, its minimalist design and the premium strength abv seem to have combined the success of both the craft beer and gin trends.
According to Nielsen data for the 52 weeks ending 30 June 2018, when looking at new RTDs launched this year, these two brands rank among the top selling.
Savvy supermarket buyers are also looking beyond their own aisles to see what premiumisation trends are in the on-trade. This inspired the creation of RTD All Shook Up, which Global Brands launched in April.
The NPD process started with a conversation with Tesco's spirits buyer about whether we could create a great-tasting cocktail, which has 'sharable' potential on social media.
Working with Tesco, we developed two flavours based on premium on-trade cocktail serves including espresso martini and passionfruit martini. These are made using natural flavours to create a more authentic taste. The drinks come in 250ml cans, with sleek designs inspired by catwalk fashion, purposefully 'Instagrammable'.
All Shook Up launched exclusively in Tesco in mid-April and has far exceeded initial targets, selling hundreds of thousands of cans per month.
Similar to All Shook Up, alcoholic soda Crooked Beverage Co is a new RTD that personifies the premiumisation of the category.
Launched last year, it's made using a malty base, combined with all-natural flavours and fruit juices. This natural flavouring is more akin of craft, as are Crooked's cans, which are designed by artists.
Perhaps one of the most appealing elements for supermarkets of RTDs going premium is that innovation is growing the category as opposed to cannibalising it. These new RTDs appeal to new customers tiring of fruit ciders or simply looking for something different to drink.
Jen Draper is head of marketing at Global Brands