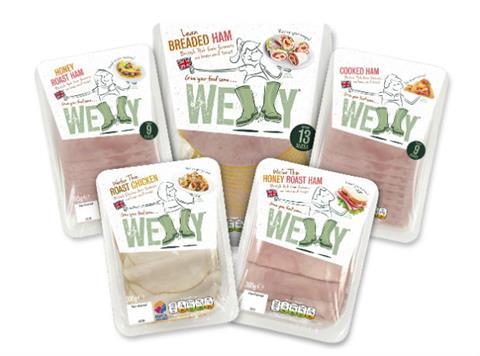 Pork giant Cranswick is aiming to shake up the cooked meat category with the launch of new 100% British brand Welly.
Launching in Nisa stores today (13 January), followed by Waitrose next week, the new mid-market range of five products comprises honey roast ham (rsp: £1.19/115g), cooked ham (rsp: £1.19/115g), wafer-thin honey roast ham (rsp: £2/300g), wafer thin roast chicken (rsp: £2/300g), and lean breaded ham (rsp: £3/300g).
Richard Morris, marketing controller for Welly, said the brand would bring more choice to a category dominated by own label.
"There is plenty of opportunity for growth in the category, but there is currently a lack of strong brands to speak to consumers and give them ideas about different ways to use cooked meats," he said.
Morris claimed the majority of mid-market cooked meats currently on offer were produced using imported EU meat.
"We wanted to bring the assurance of British-produced ham and chicken to that tier and give more choice," he added.
An independent British pig producer will supply Cranswick with pork for the brand, while chicken will come from RSPCA Assured farms through Noble Foods.
Welly will communicate with shoppers via Facebook, Twitter and Instagram accounts set to go live next week, while the Welly website will feature a range of recipe ideas, ranging from wraps and toasted sarnies to risottos and quesadillas.