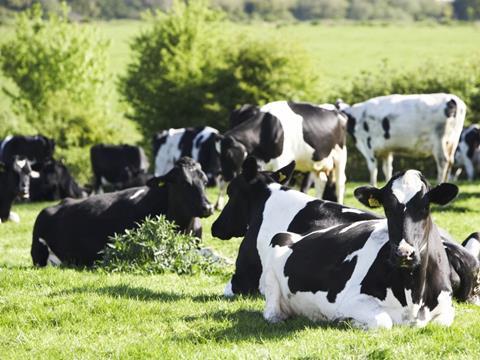 Dairy Crest is to re-open its formula contract for new applications.
Producers will be able to apply for the 12-month contracts from 22 September for a limited time on a first-come first-served basis. Originally launched in April 2013, the formula calculates the price Dairy Crest pays non-aligned liquid milk farmers on a monthly basis based on five factors: the cost of compound feed, red diesel and fertiliser as well as the price of bulk cream and four pints of milk in the retailers.
The formula contract price for liquid milk producers will fall by 0.49ppl to 31.23ppl from 1 October, however it remains significantly higher than Dairy Crest's standard liquid milk price for October, which stands at 28.34ppl.
Michael Masters, secretary of Dairy Crest Direct (DCD), which represents the 1,100 farmers who sell their milk directly to Dairy Crest, said those signing up for the contracts would benefit from "some price certainty" and less volatility ahead of a potentially difficult winter for dairy producers.
Dairy Crest farmers on Davidstow contracts will also experience a reduction on 1 October, from 1.75ppl to 30.34ppl.
First Milk is reducing the price it pays for both its liquid and manufacturing pools by 3ppl to 25.1ppl and 26.1ppl respectively, while Arla reduced the price it paid for a standard UK litre by 1.2ppl 30.38ppl on 1 September.
Masters said a reduction in cream and concentrate market prices would be the main drivers in milk prices over the coming months, and could potentially see formula prices fall by around 1ppl each month in November and December, with a reduction in the region of 0.7ppl for January before levelling off as markets stabilised.
"Despite these estimated reductions, the January formula price would still deliver a higher milk price than the October standard liquid contract."
"In the current uncertain market, at what level will the equivalent comparator standard liquid milk price actually record for January?" Masters queried.