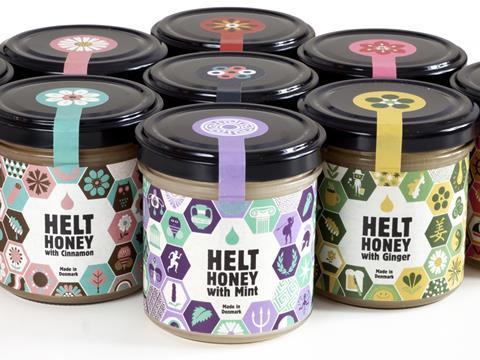 Flavoured Danish honey brand Helt has expanded its range and revealed ambitions to secure listings in the major mults.

Helt Honey with Mint is being rolled out to wholesalers and Selfridges in mid-November in a single 200g jar format (rsp: £4.99), growing the brand to 10 SKUs, including a liquorice-flavoured variant.

Helt, which translates to hero, was launched by Brit Anthony Lee five years ago following his relocation to Denmark. Available in the UK since 2013, the brand plans to "significantly" expand its British distribution next year to include the major supermarkets, said Lee.

"Bearing in mind that Scandinavian gastronomy is currently all the rage, it makes perfect sense for a stagnant UK honey fixture to look to Scandinavia for some trailblazing inspiration when it comes to making honey relevant to modern lives."

Other flavours in the range, which is available from farm shops and delis, include chilli, cinnamon and ginger.