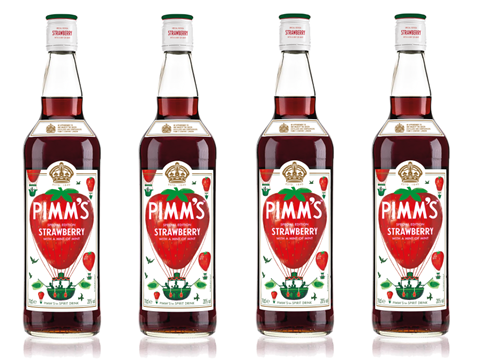 Diageo is expanding its Pimm's range with the addition of a Strawberry With A Hint Of Mint flavour.
It is the second entry in the Pimm's flavours range, following Blackberry & Elderflower, which launched in 2013. The new drink, based on Pimm's No.1 and with an abv of 20%, is available in a 70ml bottle (rsp: £15, or £11.99 price-marked pack), one-litre bottle (rsp: £21), and an RTD premix can (rsp: £2). Diageo said the launch, in April, would tap into the growing demand for flavoured spirits.
"Pimm's is intrinsically linked to British summertime fun – last year we outsold other specialty spirit brands three-fold, increasing our market share from 21% to 46% [Nielsen Scantrack 52w/e 6 December 2014]," said Pimm's marketing manager Joanna Segesser.
"The launch of Pimm's Blackberry & Elderflower proved very successful in driving category growth, recruiting 40% more new shoppers to the Pimm's brand [Dunhumby data to 4 January 2015] and driving incremental sales. This demonstrates a real appetite amongst consumers to try new and exciting flavours."