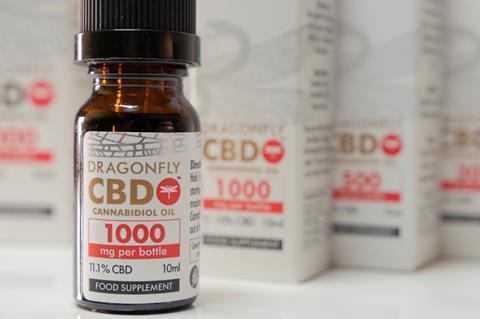 The owner of the UK's DragonflyCBD brand has opened a contract manufacturing arm, with the capacity to produce about 50,000 CBD units per day across supplements and personal care.
Dragonfly Wholesale would be able to "service 75% of the UK's fast-growing CBD market" said parent company Dragonfly Biosciences. Its new operation had kicked off "at a time of burgeoning interest from retailers and entrepreneurs wanting quality, large-scale, consistent white-labelled CBD tinctures and cosmetics from a trusted, established brand".
Dragonfly grows its own cannabis in Bulgaria, where it is based across two facilities – one for extracting CBD and one for formulating products. It had already secured contract manufacturing agreements "with a leading international sports brand and a British health and beauty brand" it said.
The company is eyeing existing UK brands as further clients, offering ingredients and finished products at a minimum of 1,000 units per order. It will also provide guidance on achieving novel foods status, which will be enforced by the FSA from 1 April 2021.
Dragonfly's services would provide clients with "consistency in a market that has been, at times fairly, described as the wild west because of a poor understanding of cannabinoids, complex legislation, and the much-maligned 'green rush'" said chief operating officer Hannah Skingle.
The company recently submitted a novel foods application for its branded portfolio of CBD oils – having spent nine months carrying out its own toxicology studies. It was "confident" of being granted the status, Skingle told The Grocer.
DragonflyCBD made its debut in 2018, landing its first listings in Boots and Day Lewis Pharmacy. Now available in the likes of Tesco, Sainsburys and Harrods, it sold more than 100,000 units via retail in 2019.
Contract manufacturing had been one of Dragonfly's objectives since its beginning, Skingle said. "The reason why we didn't immediately do it was all our ducks weren't in a row. We wanted to have proof of concept of our own brand."