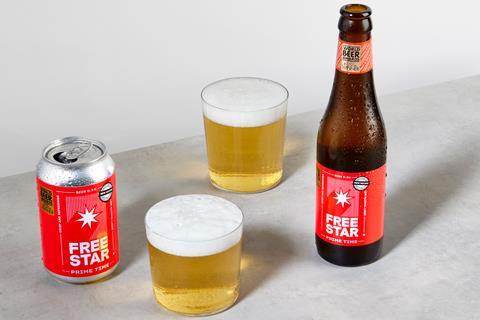 Alcohol-free beer brand Freestar has reported a 427% uplift in sales during the first week of 2023.
The brand claims to have more than quadrupled its year-on-year website sales, compared with the first week of 2022.
It comes after Freestar secured a nationwide listing for its 0.5% abv Prime Time lager with Tesco in December 2022, with the drink rolling into 300 of the retailer's stores.
The SKU, which usually retails at £1.75 for a 330ml bottle, is on a promotional offer of £1 at the retailer for the whole of January.
The beers are also listed in Ocado, Amazon and Sainsbury's.
"At Freestar, we have created the perfect alcohol-free beers for beer lovers, offering delicious beers that mimic the taste of alcohol with great complexity and texture, and we are delighted to have secured such a significant sales increase during what is a key period for us," said co-founder Felix von Hurter.
"With increased demand for non-alcoholic beer during Dry January, we hope this sales boost enables us to recruit new drinkers to the category and produce lifetime value to generate repeat purchases in the future."
It comes after alcohol-free beer brand Lucky Saint recently secured a "record-breaking" £10m investment to accelerate the distribution of its draught offering, and kick-start an expansion into Europe.