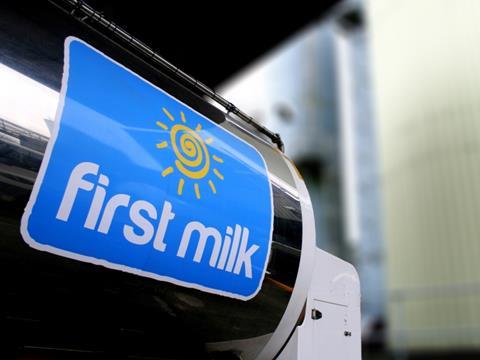 First Milk accumulated pre-tax losses of around £22m during its past financial year, the dairy co-op has confirmed.
Unaudited figures posted today (19 June) revealed the true extent of the financial difficulties faced by First Milk for the year to 31 March, and follows a turbulent period when it delayed payments to farmers, slashed its farmgate milk price, and replaced CEO Kate Allum with Mike Gallacher.
Speaking as the results were published, Gallacher admitted the past financial year had been "extremely difficult" for First Milk
"The 2014 losses we are announcing today reflect the market context, but also poor operational performance that impacted at the same time as the business paid out higher milk prices to our famers in 2014 than was received in commercial returns."
Since joining First Milk in March, Gallacher has initiated a turnaround programme for the processor that could see it shed up to 70 jobs, and launched a full strategic review of the business, which includes setting up focused business unit teams, a range of significant cost reductions and the establishment of new milk pools.
First Milk posted a 15% hike in revenues to £610m for the previous financial year with pre-tax profits of £3.5m. However, the business has struggled to compete in the face of a global downturn in dairy prices and demand over the past year, which has seen average UK farmgate milk prices slump by around 25% [AHDB Dairy].
"In face-to-face meetings with our farmer members in recent weeks I have shared a frank assessment of the business, explained the performance issues and outlined our plan to stabilise the financial position," Gallacher added.
"I was very open and direct about the challenges and that member milk prices must be consistent with our commercial income. We will only pay out what we get in."
Gallacher, who warned in an exclusive interview with The Grocer last week that First Milk members should "not expect me to overpromise" over the co-op's turnaround plans, said his actions had started to "address core business issues and have improved our trading position", but warned the industry "continues to be extremely challenging, with global prices having now declined by over 50% since last year's peak".
The National Farmers Union's dairy board chairman Rob Harrison said the results indicated "how unsustainable the UK dairy industry is at the moment, and shows the urgent need for meaningful change to bring long term prosperity".
He added that the co-op's turnaround plan "must deliver results quickly and for the long term", with current milk prices being paid by First Milk unsustainable, and its 2p per litre capital investment requirement for members "only compounding the impact".
"Any farmer supplying First Milk will be haemorrhaging cash on a daily basis and they will be eagerly looking for signs of hope for the future," he claimed.