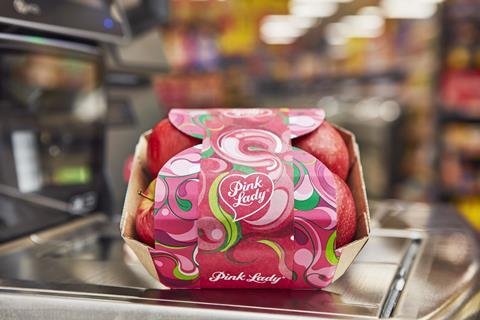 Shoppers will be able to buy UK-grown Pink Lady apples for the first time from today (18 February), supplied by Kent-based growers Adrian Scripps and Worldwide Fruit.
Brand licensor Coregeo said limited volumes of the UK-grown apple would be available in supermarkets nationally, in response to growing consumer demand in recent years. It follows a first succesful trial for a UK-grown Pink Lady in 2011, and a subsequent commercial trial by the two growers – the harvest of which is now hitting the market.
Larger volumes of the UK-grown crop were expected to follow by the end of the year in the wake of the next harvest, Coregeo said.
Only imported apples of the variety have previously sold in the UK, with the Pink Lady brand grown in Europe under license from trademark owner Apple & Pear Australia.
Adrian Scripps and Worldwide Fruit were selected on their ability to consistently produce Pink Lady apples with the required time on the tree, as it is was the first variety to blossom and the last to be picked, Coregeo added.
"It is really positive news as until now British growers haven't been able to grow Pink Lady," said British Apples and Pears chair Ali Capper.
"It is an important apple brand on a global basis, and it has become an important apple in the UK," she added. "Now that we can grow it successfully, it is a very important first step into Pink Lady becoming a British apple grown here, so fewer food miles, less carbon footprint and less water footprint."
As it was part of a trial, Pink Lady could not confirm the number of apples that would be available, but according to Capper the availability of the UK crop would likely only last a few days to a week due to scale. She predicted that availability would grow "exponentially" over the next few years as more growers trialled the product and acquired a licence to grow the crop.
At the end of 2021, Pink Lady was up 11.2% in value sales terms and by 13.3% in volume, despite the overall apple category falling by 0.3% and 2.3% respectively, according to Kantar data.
Pink Lady has a 21.7% market share, second only to Royal Gala at 27.5%. It has established commercial orchards in France, Spain and Italy in Europe and in the southern hemisphere in order to maintain year-round production.
"It is very exciting for retailers and British consumers that are now for the first time able to buy a British Pink Lady, which is a brilliant apple", said Capper.