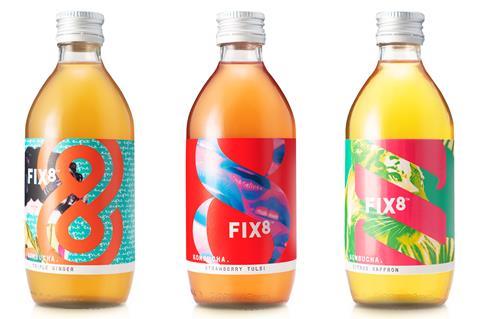 Fix8 has bucked the shrinkflation trend by upping its 250ml kombuchas to 330ml with no increase in cost to the consumer.
The kombucha startup has increased its pack size by 37% without increasing its £3.25 rrp by switching up its packaging materials and introducing automation.
Its new 330ml bottle can go down an automated filling line, while the previous size required hand filling, explained Fix8 founder Freya Twigden, noting the latter was a more expensive packaging method.
The bottles are also now topped with an ROPP cap, which Twigden said retained better carbonation so the drinks would be "slightly fizzier and more consistent".
The move followed consumer demand for larger bottles of its kombucha range.
"They wanted bigger bottles, so we found a way to do this that worked for them and worked for us", said Twigden.
It was "imperative" for Fix8 to maintain the "premium nature" of its product, while making it more accessible, she added.
The kombucha brand has also secured listings for all three flavours – Triple Ginger, Strawberry Tulsi and Citrus Saffron – at Ocado.
The listing is its first in grocery, having previously been available in bars, cafés and food halls across London.