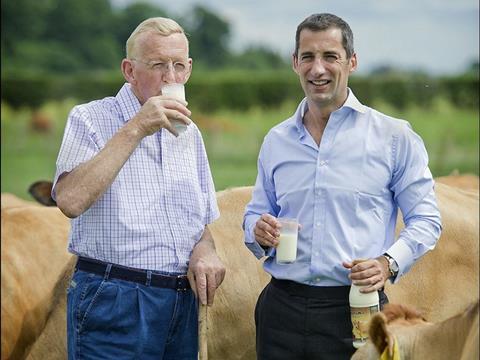 Graham's The Family Dairy is looking to grow its presence in North East Scotland after taking over the milk distribution business of Mitchells Dairy.
It will distribute Mitchells milk products to shops, households, restaurants, hotels and offices across Aberdeenshire and will take on all 21 Mitchells staff.
The products will carry the Graham's logo, and Graham's said the deal would give it far greater shelf presence in North East Scotland while putting it in a good position to enter other markets in the area.
Inverurie-based Mitchells admitted competing with the low prices offered by multiples had made the recent years difficult, and said it would now focus on developing other aspects of its business including its dairy shop and tearoom.
Graham's managing director Robert Graham said he looked forward to taking Mitchells distribution business to the next level.
"As a fellow family business in the dairy sector, our priority is looking after our customers, staff and our farmers and we're looking forward to building on the Mitchells' high standard of customer service and extending consumer choice."
Mitchells was established in 1928 and has distributed milk for four generations.
"We are delighted to be handing our milk business as a going concern to Graham's, a family dairy with similar values to our own, offering continuity to customers and staff," said Judy Whyte, who runs the business with her father and husband.
"Operating at the scale Mitchells has over recent years has been tough, competing with low prices in the multiples and we are pleased to be able to hand over in a smooth transition to Graham's who are far better placed to progress the business we have built," she added.