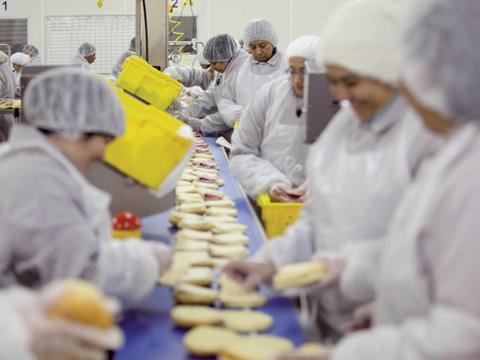 Greencore has followed Cranswick and 2 Sisters Food Group by becoming the latest major food manufacturer to close a factory due to a surge in Covid-19 cases.
The own label giant confirmed on Friday it had temporarily closed the Northampton plant where it manufactures own label sandwiches for M&S, amid an increase in community transmission in the locality and after 292 staff tested positive for the virus earlier in the week.
Greencore said the decision to close the plant would allow "all remaining colleagues at the site to self-isolate as a precautionary measure" and had been taken as part of the region's ongoing efforts to reduce the spread of the virus.
"We have moved a proportion of production from the Northampton facility to other sites within the Greencore network, and are working with the affected customer to help mitigate any shortfall," it added.
The move follows a decision by Cranswick last Thursday to temporarily close its Ballymena pork plant in Northern Ireland after a number of cases were confirmed among its workforce amid a spike in community outbreaks across the region.
Meanwhile, the number of confirmed cases among staff at 2 Sisters' Coupar Angus site had risen to 110 yesterday, just under a week after the poultry giant closed the facility as a precautionary measure.
A 2 Sisters spokesman said the processor planned to reopen the site on 31 August, pending a review of the measures it had taken to date.
"We continue to work extremely closely with the incident management team, associated agencies and the Scottish government," said the spokesman.
It comes as the processor's sister company Bernard Matthews today said the manufacture of "a small percentage of its products" would need to be diverted to other facilities following a fire at its Suffolk-based Great Witchingham poultry processing plant on Saturday.
A fire was discovered in a plant room in a separate building to the main production area, a spokeswoman said. Thirteen fire crews tackled the blaze, according to local media. However, Bernard Matthews stressed production would restart tomorrow, while no one had been injured in the fire.
The brand, which relaunched its infamous Turkey Twizzlers earlier this month, also confirmed the product had sold out, just days after going back on sale at Iceland.