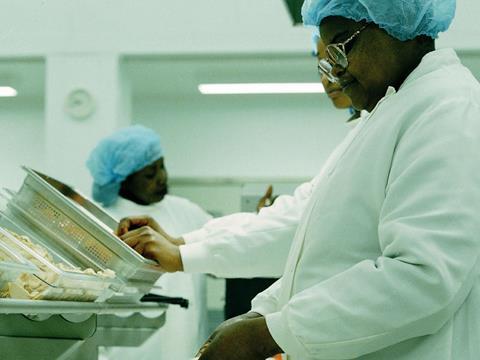 Greencore has played down speculation it is lining up a bid for Kerry Foods' frozen ready meals business, insisting its focus is delivering on a raft of new initiatives.

After disposing of its Wisbech operation some time ago, Kerry Foods has reportedly hired advisors in Ireland to find a buyer for its remaining frozen food assets, largely centred around Rye Valley in the Republic of Ireland. Earlier this year, Kerry reported that sales of frozen ready meals tumbled 11% in 2013, hit by the Horsegate scandal.

Greencore is among the leading contenders to take over the frozen operations.

But speaking as it announced annual results on Tuesday, Greencore CFO Alan Williams said its focus was shifting to execution of previously announced projects.

The ready meals supplier's £30m investment in food-to-go at its Northampton plant saw revenue growth exceed 15% last year.

Greencore has also been building a US food-to-go business, based on the East Coat. This week it announced the development of its first west coast facility in Washington State, which Williams suggested would enable it to deliver on its promise to build a nationwide US food-to-go business "of real scale".

"We have a series of committed customer initiatives for growth we're investing behind," Williams said. "When capex more than doubles [since FY 2013] you have a responsibility to get value for money and execute properly".

He did not rule out further acquisitions, but suggested they would need to fit into Greencore's existing areas of strategic focus. Williams said Greencore was keen on the frozen food-to-go space in the US because of the geographical distances involved means frozen products can help from a logistics perspective.

Overall Greencore group revenues for the year to 26 September were up 6.4% to £1.27bn, while group operating profits rose 11.4% to £82.9m.

Jefferies analyst Alex Howson noted: "Greencore have capped a year of dramatic strategic and operational development with robust full year results."

Other names in contention to buy Kerry's frozen ops include Valeo Foods, 2 Sisters owner Boparan and Bakkavor.

Investec analyst Ian Hunter said a possible sell-off of Kerry's frozen business would fit into the company's overall strategy of divesting non-core assets to concentrate on its more profitable global ingredients business. As part of this strategy, it sold its pastry unit to Pork Farms in April.

Hunter also noted that the frozen division made up only 4% to 5% of Kerry's existing consumer goods revenues.