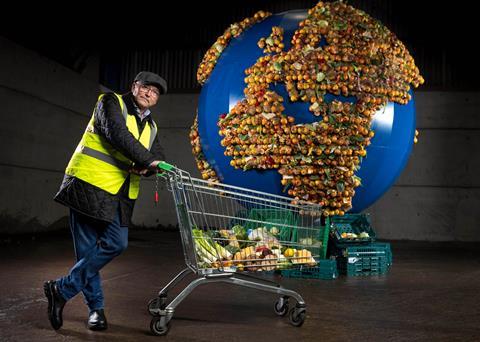 MasterChef presenter Gregg Wallace was today unveiled as the new face of the nation's battle against food waste, as a campaign by Wrap seeks to reduce the "staggering" 6.6 million tonnes of food wasted in UK homes.
Wallace has been signed up by the body to unveil a shocking new installation showing the scale of food waste from one UK household over one year, in the form of a 10ft food waste planet.
Wrap will meet with resource and waste minister Jo Churchill tomorrow to present research from the body, which shows over a third of people admit to not knowing what is in their freezer and almost a fifth saying they throw away food because it has laid dormant for too long.
Wallace takes over from former Great British Bake Off winner Nadiya Hussain for the second year of the event, which will run simultaneously in Canada, the US, South Africa, Australia and Mauritius.
It will seek to raise people's awareness of the huge impact of household food waste on climate change and share practical advice, food-savvy behaviours and tips on how people can reduce food waste in their homes.
The campaign will run in the UK and globally across social media channels.
Wrap's latest figures show the UK throws away 6.6 million tonnes of household food waste a year, which equates to nearly 25 million tonnes of CO2 emissions, equivalent to 5.4% of the UK's territorial emissions.
However, the survey highlighted 81% of UK citizens are concerned about climate change, but only 32% see a clear link with food waste.
Last month Wrap released new guidance urging retailers and suppliers to scrap best-before dates on food, calling for a campaign to educate the public on how to use their fridges to extend the lifetime of fresh products.
"No one hates seeing good food go to waste more than I do, and often it's simple changes in how we store food that make the biggest difference," said Wallace. "That's why I'm delighted to support this year's Food Waste Action Week and Love Food Hate Waste.
"The fact is, we are all responsible for the vast majority of food waste that happens in the UK, so we really need to be part of the solution for the sake of the planet. And with food prices going up and other pressures on disposable income, the savings you'll make to the family budget by wasting less food are significant."