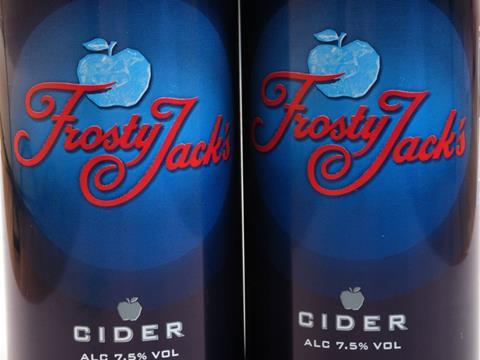 Sales of many high-strength beers and ciders are booming, according to new figures compiled for The Grocer.

The Grocer's ranking of Britain's 100 Biggest Booze Brands (in association with Nielsen) shows sales of the top five high-abv beer and cider products grew £700,000 in value to £123.9m in the 12 months up to the end of April, despite being in the Home Office firing line and the target for local voluntary high-strength alcohol bans across the country.

Three of the top five brands were in value growth, with value sales of Aston Manor's 7.5% abv cider Frosty Jack's rising £3.7m (9.3%), while volume sales dipped only slightly despite a sharp price rise.

Meanwhile Carlsberg's Skol Super, and K cider, produced by the Shepton Mallet Cider Mill, ended the year in both value and volume growth.

The figures come as lobbyists, ministers and drinks industry bodies piling pressure on suppliers to commit to Responsibility Deal pledges launched last week, with so far only AB InBev signing up. It pledged to stop selling carbonated drinks in cans containing more than four units of alcohol, resulting in the switching of 500ml cans of Tennent's Super (9% abv) into 440ml cans.

But ministers failed to persuade any producers to back a voluntary ban on high-abv lager and cider sold in plastic bottles of more than 15 units.

The Grocer has uncovered strong resentment among suppliers, with Nigel McNally, MD of Brookfield Drinks, producer of Kestrel Super (9% abv) and Diamond White (7.5% abv), saying he would only sign if the Home Office promised to take action to outlaw local voluntary bans on high-strength booze.

"We support the general direction of the pledges," said McNally. "But we have a problem with the notion that there are two types of alcohol: good and bad. We want a guarantee of a level playing field. We won't sign a pledge if it just means that other producers can come in from abroad and fill the gap in the market."

McNally, whose company produces a 500ml Kestrel Super can, added: "If producers go down to a 440ml product the government should recognise these as absolutely legitimate products. For that to happen it has to agree to outlaw the existing voluntary bans that police and local authorities have been bringing in across the country."

Senior industry leaders expressed their frustration at the lack of sign-up. "This move must be producer-led," said one figure involved in the pledge. "This is what will enable the industry to set a new standard."

"Having products that make up more than four units in one can is very hard to defend," added another industry source.

Carlsberg, which produces 9% abv Special Brew in 500ml cans, said it was supportive of the moves but would "take some time to consider our approach".