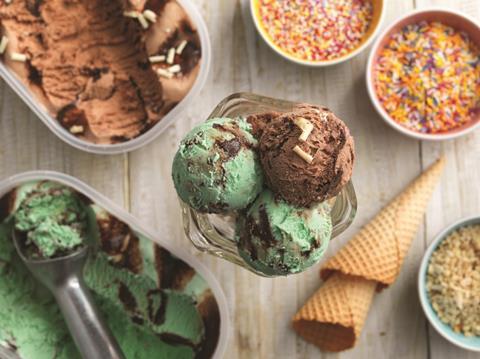 Iceland has launched its first own-label gelato range alongside a selection of new ice creams.
Iceland Belissimo – a two-strong gelato range crafted and sourced from Italy, is being rolled out tomorrow (15 April) in chocolate and a mixed fruit variants (rsp: £2/850ml tubs).
The retailer, which already sells branded gelato, said it was "thrilled to bring a genuine Italian gelato" to its stores. "'Ice cream is a real Italian institution, and our new gelato range is synonymous with this tradition, quality and taste," said joint MD Nigel Broadhurst.
The duo is hitting shelves alongside a new Delights line that comprises two desserts – lemon sorbet and coconut ice cream (rsp: £2/two-pack).
For those watching their waistlines, the retailer has launched tropical and berry flavoured Solo lollies that contain under 100 calories (rsp: 89p/three-pack), while the Mini Ice Cream Donuts - vanilla ice cream dipped in milk chocolate and topped with colourful sprinkles, has been designed for shoppers looking for a "smaller and lighter ice cream indulgence" (rsp: £2/eight-pack).
For those with a bigger appetite, Iceland's new King Cones are more than double the size of a standard ice cream cone and feature Mr Whippy-style ice cream in either creamy vanilla or chocolate flavours (rsp: £2/two-pack).
The frozen food giant said it had put "a great deal of work" into perfecting its frozen treats portfolio this year.
"Whether enjoyed as a sweet treat on a warm day or as the finishing touch to a party with family and friends, our new selection is sure to be a hit this summer," said Broadhurst.
Other NPD includes Iceland Royal Majestics - chocolate-coated ice creams available in caramel almond and peach melba variants (£1.50/four-pack).