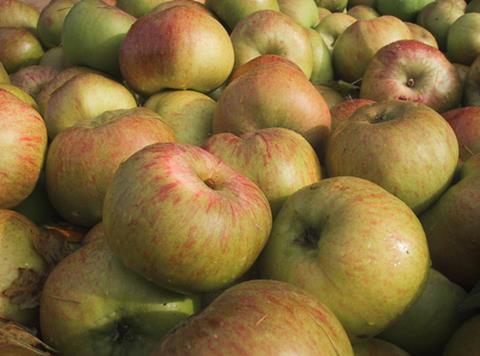 British apple and pear growers can soon export to India for the first time under a trade partnership announced this week.
The agreement is not as comprehensive as a free trade deal, such as those with the EU and Japan, but will reduce non-tariff barriers on fruit and other sectors.
Boris Johnson announced the partnership on Tuesday, though it remains unclear when the new measures will take effect. The World Trade Organization was notified of the changes in February and from then it usually takes six months. However, delays are expected due to India's Covid outbreak.
Nonetheless, growers welcomed the opportunity to expand their currently limited export markets – apples, pears and quince exports totalled less than £13.5m in 2020. "It's a big opportunity and one that has been on the priority list for British apple and pear growers for some time," said Ali Capper, executive chair of British Apples & Pears. "India is a very big market and British fruit is certainly something the Indian middle classes aspire to.
"The question mark is whether we'll actually be able to export this season or whether it will have to be next," said Capper.
Brexit disruption has had little effect on apple and pear growers, who primarily target the domestic market. Their preoccupation in recent years has been building market share in the UK against foreign imports.
British shoppers prefer smaller apples, said Capper, with bigger fruits typically used for processing or juice. If big fruits can be exported to markets such as India, then a superior price could become available.
The UK government now wants a full UK-India trade deal to reduce or remove tariffs on food and drink – whisky for example is subject to 150% duty – yet some in the industry have doubts.
"India first needs to do a deal with itself because it has more internal tariffs than any other country," said one senior industry source. "Can you even do a trade deal with a country that is so vociferous in its approach to trade?
"They might do a cosmetic deal, a bit like the one they were promising before the US election, but it will be nothing meaningful."