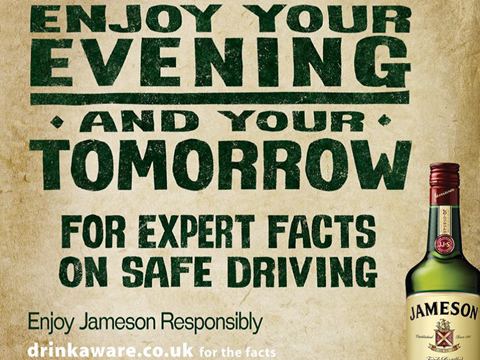 Jameson whiskey is featuring in this year's anti-drink driving campaign from Pernod Ricard and the AA – the first time one of the company's brands have featured in such an ad.
The digital campaign is the eighth the wine and spirits giant has run with the AA, although previous ads have only featured subtle Pernod Ricard branding.
It is aimed at 18 to 34-year-old men and is intended to promote the message that revellers should avoid driving the morning after drinking, when they may still be over the limit. The targeted ads will focus on consumers whose internet use demonstrates an interest in pubs, clubs and going out, with straplines including 'Driving? Enjoy a Jameson some other time'.
The activity follows a survey commissioned by the AA that found that although more than half (54%) of car users try to avoid drink driving by agreeing a designated driver before an event, almost a fifth (19%) have driven the morning after drinking, even when they think they could have been over the limit.
"This year we are using the Jameson brand to grab the attention of young adults who may be drink-driving," said Pernod Ricard UK MD Denis O'Flynn. "It's clear a lot of people are making the right choices but often they don't realise the dangers of driving in the morning after a night of festivities."