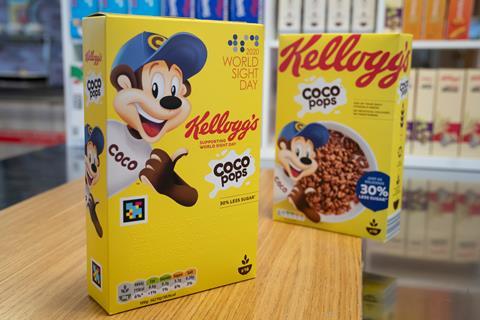 Kellogg's created new high-tech Coco Pops boxes especially for blind and partially sighted shoppers.
The new boxes, which will roll into 60 Co-op stores across the UK as an initial trial, feature a unique on-pack code which plays back labelling and allergen information to the user.
They incorporate NaviLens technology, which allows smartphones to pick up the code from up to three meters away when a blind or partially sighted shopper points their device in the direction of the box.
The technology is already used across Barcelona, Madrid and Murcia's city's transport systems - the Kellogg's trial marks the first time it has been used in the UK and for food packaging.
The boxes are also embossed with braille and on-pack information is displayed in a larger font size.
The project was conducted in partnership with the Royal National Institute of Blind People, following research which suggested nine in 10 blind and partially sighted people felt information on food packaging was difficult or impossible to read.
"Over two million people in the UK live with sight loss and are unable to simply read the information on our cereal boxes," said Kellogg's MD Chris Silcock.
If the trial was a success, he added, the fmcg giant would look to apply the technology to a wider selection of its brands.
The Co-op had "pioneered braille on packaging" nearly 20 years ago, said Co-op customer director Ali Jones, adding the retailer was "delighted" to be trialling new tech "for a new generation of customers".