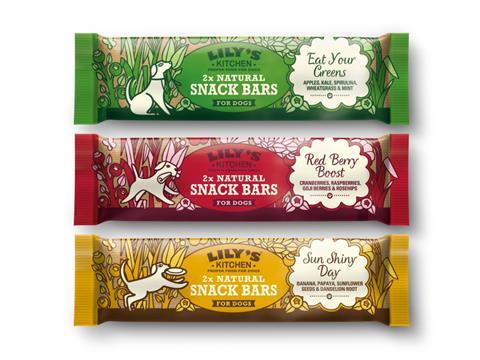 Lily's Kitchen has added a trio of 'superfoods' snack bars to its dog food range.
The new baked bars will be available from Ocado, Whole Foods Market and Daylesford from 8 June in three variants - Eat Your Greens (apples, kale, spirulina, wheatgrass & mint), Red Berry Boost (cranberries, raspberries, goji berries & rosehip) and Sun Shine Day (banana, papaya, sunflower seeds & dandelion root). Pitched as an ideal snack or meal replacement, the bars come in packs of two (rsp: £1.99).
The trio, which has been in development for three years, would appeal to the growing number of pet owners that wanted their dogs to eat well with "nutrient-rich diets that match the healthy foods they feed their families", said founder Henrietta Morrison.
"Most snack bars are made moist and chewy by adding cheap synthetic additives, which also act as preservatives," added Morrison. "We never use artificial additives or ingredients in any of our foods so we embarked upon the challenge to develop a revolutionary baked snack bar for dogs."