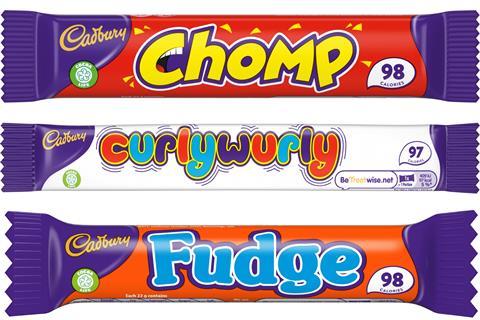 Mondelez is set to cut calories in more of its best-known chocolate brands for kids, as part of its efforts to tackle childhood obesity.
Fudge, Curly Wurly and Chomp, as well as Barny sponge bears, would be brought under 100 calories "over the next few months", the confectioner revealed this week.
The move forms part of its commitment to introduce a 100kcals cap on all of its products that are commonly bought for children. Work began last year, when Cadbury Mini Fingers and Cadbury Animals were both brought under that threshold.
By the end of this year, Mondelez will have 11 brands that comply with the cap, including Freddo, Buttons and Mini Fingers. The latest brands to fall under 100 calories will get a new pack design that includes "a striking flash" to highlight the claim (see image).
Mondelez MD Louise Stigant said limiting portions was "the right approach in terms of helping parents control calories when wanting to treat their children".
"We feel strongly about playing our part in tackling childhood obesity and are focusing on the areas where we can make the greatest impact."