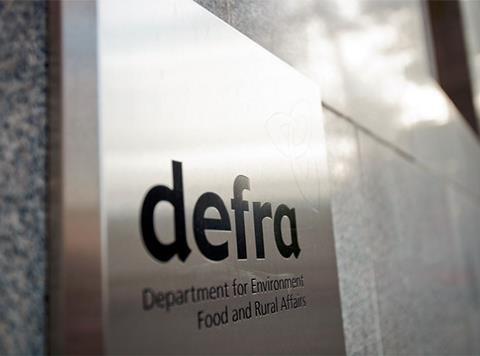 MPs have once again urged the government to appoint a minister for food security and consult on a national 'right to food'.
The calls come in the latest report by the Environment, Food and Rural Affairs Committee, a follow-up on its inquiry on Covid-19 and food supply in July 2020.
The idea was first mooted by FDF CEO Ian Wright during an evidence session ahead ofthe first Efra report.
Today's report said a new minister should be appointed to work cross-departmentally "ensuring that everyone and especially the most vulnerable", has access to enough "affordable nutritious food".
It went on to say the government must also consult on a legal "right to food" in its white paper responding to the National Food Strategy, due early this summer.
The report revealed one in 10 households had experienced food poverty during the past two national lockdowns.
"There must also be recognition of the tremendous momentum gathered during the crisis to keep the most vulnerable in our society fed," said Efra chairman Neil Parish MP. "This must be sustained. For the second time in a year, our committee urge the government to appoint a new minister to address food security in the UK."
The committee also noted government should learn from the unacceptable food parcels provided by some suppliers in January and ensure that "any future offering is consistently up to standard".
Meanwhile, supermarkets were called on to "recognise their responsibility" to assist clinically extremely vulnerable people to access food if advised to shield.
Efra guidance included scrapping delivery charges and minimum online spends for this group, as well as ensuring stores that have been made 'Covid secure' do not exclude people with disabilities.
Elsewhere in the report, government was urged to extend financial aid to hospitality suppliers including foodservice wholesalers as lockdown eases from 12 April with the opening up of outdoor venues. The report warned: "The government must urgently recognise the impact of the sector's closure on its suppliers. Money to support hospitality businesses will be wasted if government does not aid suppliers."
Parish added: "When pubs, bars and restaurants closed, their suppliers' market evaporated overnight. They have worked admirably to pivot to new customers, but many businesses, particularly small ones, are struggling to survive. We are all looking forward to hospitality beginning to reopen on Monday, but the reality is that without support for their suppliers, many venues may struggle.
"The government must act now to provide additional help for suppliers. If its supply chain collapses, the money the hospitality sector has received to get them through lockdown will have been wasted."
Wright told The Grocer: "These recommendations come at a crucial time for food and drink manufacturers supplying both the hospitality and foodservice sectors. Business as usual is still a very long way off for many of those companies operating in the 'squeezed middle' and they need reassurances they will be afforded the same level of support as those they supply.
"With elements of the hospitality industry reopening next week, now would be the perfect time for the government to outline extensions to both the furlough and credit insurance schemes to ensure those businesses most at risk can play their part in putting the country back on its feet. The fact the committee has recognised the need for a minister for food security, as per my suggestion, is extremely welcome.
"We remain ready and willing to work with the government on how that idea might be taken forward in order to ensure the most vulnerable in society can access the food they need."
Federation of Wholesale Distributors CEO James Bielby, who gave oral evidence to the committee, said: "It is clear that the needs of wholesale have been heard loud and clear by the Efra Committee.
"They are absolutely right to demand that government acts urgently to support wholesalers. The report's main finding says government must recognise the impact of hospitality's closure on the sector's suppliers, and act urgently to support the supply chain. There's no return for hospitality without an investment in the wholesalers it will rely on as it reopens."