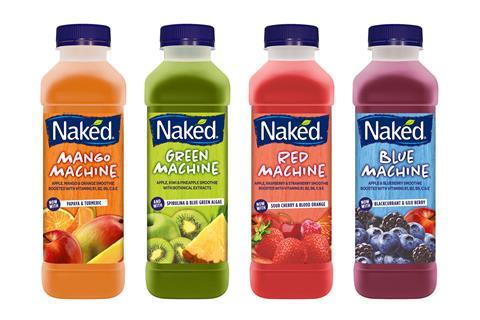 Naked is to relaunch its entire range of juices and smoothies in 100% recycled plastic bottles.
New bottles will roll out across the PepsiCo-owned brand from 29 March, replacing the virgin plastic bottles the brand currently uses.
"We believe we're the first juice and smoothie brand that can confirm it uses 100% recycled plastic across its range," said Steven Hind, marketing director for brand owner PepsicCo, adding Naked was "trying to be a leader when it comes to sustainability in the category".
PepsiCo did not reveal the exact amount of virgin plastic that would be removed from its supply chain as a result of the move.
Hind also hinted at "news regarding sustainability efforts" on fellow PepsiCo brand Tropicana to come in future.
Naked's push into recycled plastic follows the launch of Naked Lean last year, which the brand claimed was the UK's first range of low-sugar smoothies, billed as containing 40% less sugar than the average smoothie.