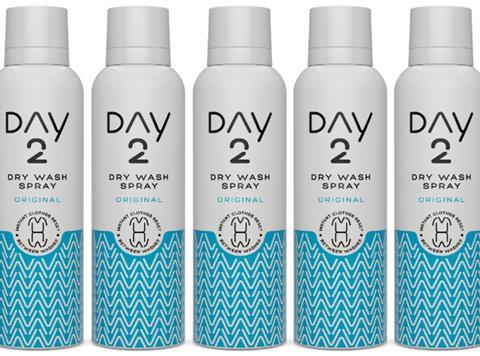 Unilever this week unveiled Day2 – "the world's first dry-wash spray for clothes" according to the fmcg giant.
Designed for "already worn, but not dirty clothes", Day2 promises to leave garments "looking, feeling and smelling just-washed and pressed".
Working in 15 minutes "in a similar way to dry shampoo", it comes in an 200ml air-powered bottle (rsp: £7.50) and a 75ml travel format (rsp: £4) – with Original, Denim and Delicates variants. Each promises to remove "malodours and leaves outfits with a light and airy fresh linen smell". All are available in the UK initially via Day2.com, with free p&p.
A 200ml bottle of Day2 spray would save 60 litres of water, equivalent to a full washing machine load, said Unilever.
The new laundry brand came in response to the fact "40% of clothes in the washing machine are not actually dirty" the company added. "These are clothes which often start on the 'chairdrobe' or the 'floordrobe': that halfway-house in the bedroom for not-quite-dirty clothes".
Unilever's aim was "to revolutionise laundry with a really simple concept" said UK VP for homecare Gemma Cleland. "Day2 is great for gym-goers who want to give their gear a quick refresh, for frequent travellers who are looking for a crease free holiday look and for fashionistas with a wardrobe full of tricky-to-clean items such as cashmere or embellished pieces.