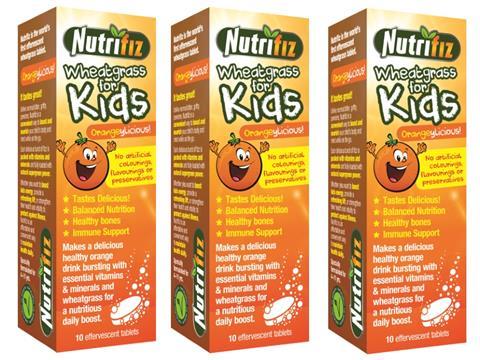 Nutrient brand Nutrifiz is set to launch what it claims is the world's first effervescent wheatgrass-based food supplement for children.
Nutrifiz Wheatgrass for Kids will contain the extract of 1.5g of organic wheatgrass – a nutrient-rich young grass from the wheat family that is hailed for its immune boosting, alkalising and detoxification properties - and 11 minerals including vitamin D for healthy bones. Set to launch in the summer, it will be priced between £4 and £5 for ten tablets, and will be marketed around healthy growth and development, immune support and balanced nutrition.
An adult version of the lemon-flavoured tablet, which contains 20 vitamins and minerals as well as the extract 3g of wheatgrass - debuted in 48 Holland & Barrett stores two weeks ago (rsp: £12.95 x20 tablets).
Rich in antioxidants, chlorophyll and phytonutrients, wheatgrass is often used as a powder in juices and smoothies but has a bitter, pungent flavour.
"Something that's good for you in a supplement form doesn't have to taste disgusting," Nutrifiz MD David Hastie, told The Grocer at the BBC Good Food Eat Well show. "Like the adult version, the children's tablets will be suitable for vegetarians and contain no aspartame, artificial colourings, flavourings or preservatives."
A 10-tablet adult pack is also set to go on sale in the summer, priced £6.50.