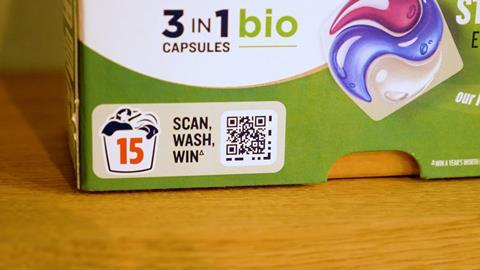 Persil has added "enhanced" QR codes to its packs in a bid to improve accessibility for blind and partially sighted shoppers.
The new codes, which were created by AR specialist Zappar in partnership with Unilever and the Royal National Institute of Blind People, can be detected from more than a metre away by accessibility app Zapvision.
Shoppers will then be provided with the relevant usage instructions, safety warnings and recycling information through the app, via larger text or audio.
Persil has already added the QR codes to its newly launched plastic-free capsules and Ultimate Liquids range, and will roll them out across its entire product range by the end of 2024.
According to Unilever, the technology will soon be integrated with Microsoft Seeing AI. The fmcg giant hopes to work with other accessibility apps to support a global rollout of the tech.
"We're really proud to be launching these new enhanced QR codes on Persil packs, before it is shared across other Unilever brands later this year," said Nadine Slyper, laundry marketing director at Unilever.
"For us, this is bigger than Unilever. We see this as a first step in helping make packaging more accessible for everyone," Slyper added.
"We're pleased to be exploring accessible QR codes as a business and hope to see other companies and accessibility apps join in this conversation."
The move comes after cereal giant Kellogg's started rolling out accessible codes across its packaging in January 2022.
In addition to improving accessibility, Persil is making concerted efforts to improve its sustainability credentials, having recently repackaged its laundry capsules in cardboard boxes – a move which it claims will save over 1,000 tonnes of plastic annually.
It has also this month expanded its Ultimate Liquids range with two new variants, Active Clean and Touch of Comfort.