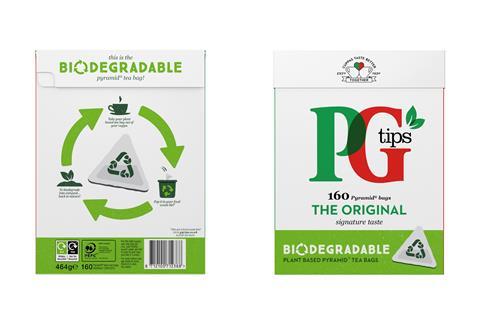 PG Tips has become the first major tea brand to remove all plastic from its teabags.
The Unilever brand has rolled out fully biodegradable plant-based bags made form corn starch across its entire retail range, having debuted the bags across a limited number of SKUs in 2018.
It has also removed the outer plastic overwrap on its 160-pack retail boxes, with plans to remove the outer plastic wrap from the rest of the pack sizes in the first half of 2021.
The new plant-based materials would provide retailers with a product that "shoppers are actively looking for", said Unilever, citing the results of a Harvard Business Review survey, which suggested consumers were five times more likely to buy sustainable products.
"The switch to working with this new material hasn't been without its challenges due to the size, speed and scale of our operation. We have been continuously adjusting factory lines so that now all our boxes contain biodegradable pyramid teabags," said Unilever tea director Fiachra Moloney.
He added Unilever was "extremely proud" to be the first major tea brand to make the switch to biodegradable bags across its entire range.
The brand's new sustainable credentials will be played up on the front and back of the new packs.
January saw Unilever kick off a strategic review of its tea business, which could lead to a sale of the PG tips brand despite Unilever having said in 2019 it was not for sale.
Its CEO Alan Jope said at the time the tea business had a "disproportionately large footprint in black tea which is slower-growing" and a "long track record of being dilutive to growth and margin, so this strategic review announcement means we want to investigate how we can best create value for stakeholders."