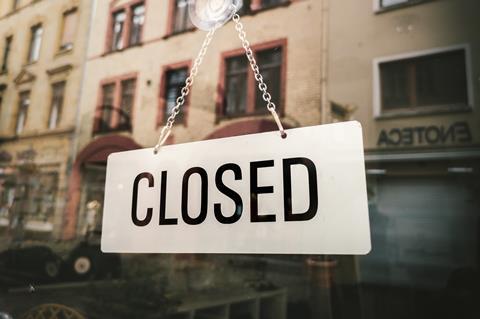 A new report claims less than half of food and drink manufacturers have applied for support for fear of being laden with debt

It claims the viability of the hospitality and foodservice recovery will be threatened without new measures
Thousands of food and drink businesses have been overlooked by the government's Covid-19 recovery strategy, industry leaders have warned.
A new report from more than 20 trade organisations on the Food and Drink Industry Round Table has claimed less than half of food and drink manufacturers have applied for Coronavirus Business Interruption Loan Scheme or Bounce Back Loan Scheme support, because they fear being laden with debt.
Meanwhile, companies face up to 50% of their customer base delaying payments or not paying outstanding invoices because of the crisis.
The report claims many food and drink suppliers to the hospitality and foodservice sector have not been given the same level of assistance as the businesses they supply.
It describes the help given to companies in what it brands the "squeezed middle" as "poorly focused". It calls for a package of new measures to help the liquidity of food and drink businesses, without which the viability of the hospitality and foodservice recovery would be threatened, it said.
The groups are calling for a series of measures, including continued furlough support at a rate of 80% of salary contribution for businesses supplying into the hospitality sector until the market returns to "commercially viable" levels.
They also urge the government to place a requirement on the trade credit insurance industry to develop best practice rules that include greater transparency and formal notification of the reasons for refusal or withdrawal of cover.
"Governments should provide more targeted support for the 'squeezed middle' that does not incur additional business debt, such as relaxation of current rules for Apprenticeship Levy funds to allow businesses to maintain existing employment," says the report.
"Throughout the pandemic, the food and drink industry's hidden heroes have been working hard to keep the country fed," said FDF CEO Ian Wright.
"But those companies who supply the foodservice and hospitality sectors have seen their business disappear overnight, and yet have not been afforded the same government assistance. The hospitality and foodservice sectors will play a vital role in contributing to the UK's economic recovery, but any restart with be stymied without further support for those food and drink manufacturers operating in the squeezed middle."
Richard Harrow, CEO of the British Frozen Food Federation, added: "Many of the 'squeezed middle' are often successful family-owned SMEs, supplying the hospitality and foodservice sectors, and are now facing collapse.
"Support for this important sector is vital to ensure they continue to manufacture and supply world-leading products, making the market so dynamic and vibrant. Their continued existence will be critical as the economy starts to recover."
Trade bodies backing the report are:
Food & Drink Federation
British Frozen Food Federation
British Coffee Association
British Sandwich Association
British Food Importers & Distributors Association
Café Life Association
Cold Chain Federation
Federation of Bakers
Federation of Wholesale Distributors
Food & Drink Exporters Association
Foodservice Packaging Association
Fresh Produce Consortium
Health Food Manufacturers' Association
International Meat Trade Association
National Edible Oil Distributors' Association
National Association of British and Irish Millers
Northern Ireland Food & Drink Association
Packaging Federation
Provision Trade Federation
Scottish Wholesale Association
Seasoning & Spice Association
The Pizza, Pasta & Italian Food Association
UK Tea & Infusions Association
Wine and Spirit Trade Association