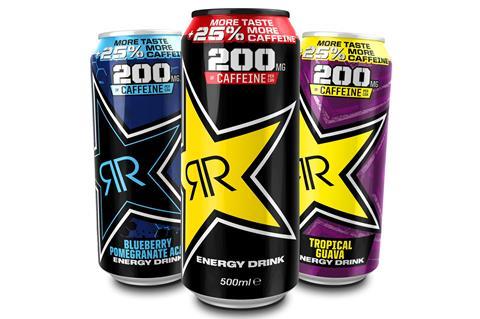 Rockstar has given its core range of drinks a caffeine boost.
The range – Original, SuperSours, Xdurance and Punched – has been given a new recipe containing 25% more caffeine than before, taking it to 200mg per 500ml can.
Rockstar said higher-caffeine energy drinks brands had been successful in the US, delivering high market growth.
AG Barr marketing director Adrian Troy said due to the current pandemic there were "big sections of society that are busier than ever before", adding the busy morning commute occasion had been replaced by the pressure of lockdown, with shoppers juggling childcare and needing to catch up on work late into the evenings.
The caffeine-boosted cans will also feature a new pack design as well as "improved flavour".
Rockstar said taste was "really important" and that the new recipe had performed "exceptionally well" in taste tests.
The new recipe follows Rockstar's acquisition by PepsiCo in March this year, which saw the soft drinks giant purchase the energy brand for $3.85bn (£3.19bn).