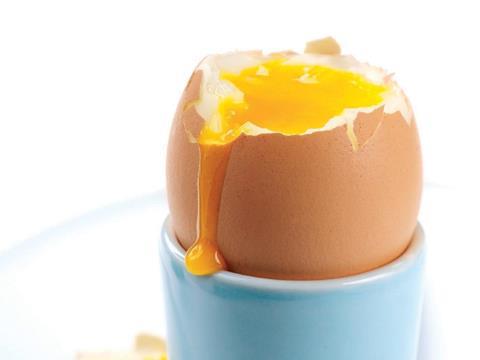 Runny eggs could be back on the menu for pregnant women, children and the elderly after a government advisory group declared them safe to eat.

A report published by a specialist sub-group of the Advisory Committee on the Microbiological Safety of Food, found there had been a "major reduction" in the microbiological risk from salmonella in UK hen shell eggs since the 2001, particularly for eggs produced under the British Lion code of practice.

The group recommended the Food Standards Agency should consider amending its consumer advice, which warned vulnerable groups to avoid eating runny eggs, and said the Lion code's suite of measures - including vaccination, a cool chain from farm to retail outlets, enhanced testing and improved farm hygiene - had made a "remarkable impact" on reducing instances of salmonella in humans.

As a result of progress made within the supply chain, the group suggested the risk level for UK hen shell eggs produced under the code should be ranked as 'very low', while the risk of other shell eggs, including imported eggs, should be considered 'low'.

This meant eggs produced under the Lion code or under demonstrably equivalent comprehensive schemes, could be 'served raw or lightly cooked to all groups in society, including those that are more vulnerable to infection, in both domestic and commercial settings, including care homes and hospitals', the report said.

The group's findings were welcomed by the British Egg Industry Council, with chairman Andrew Joret stating the British egg industry had been "confident for some time" that the safety record of runny British Lion eggs could be consumed by hitherto vulnerable groups.

"We know many people in these groups, such as older people in care homes, would love to enjoy a traditional soft-boiled egg again," he said, while urging the FSA to amend its official advice promptly.

"The report is particularly relevant for mothers - we know that the current advice has meant that many women avoid eggs during pregnancy and weaning, yet health experts say that eggs are an important food for both mothers and babies," Joret added. "Not only are they highly nutritious, but emerging research also suggests that eating eggs in both pregnancy and early in the weaning process is likely to help reduce the risk of the baby developing an egg allergy."

An FSA spokesman told The Grocer it would await the results of the 12-week consultation on the group's report and then "consider whether to amend our advice".

It follows news, revealed by The Grocer last week, that egg sales are growing at their fastest rate since the 1950s as Brits put salmonella and cholesterol fears behind them and embrace high-protein diets.