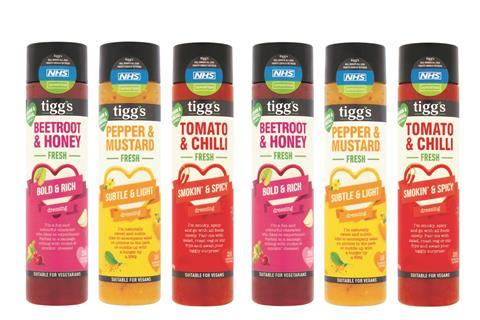 Salad dressing company Tigg's has pledged to donate 100% of its 2020 profits to Samaritans and the NHS.
Profits will be equally split between the two organisations to support the work they are doing during the coronavirus pandemic.
Co-founder Jacob James said he wanted to "inspire other British businesses who can do the same".
"Any business who is still fortunate to be trading and making a profit during this challenging time, why not think about donating a proportion to charities who need it to continue the vital work they are carrying out?" he added.
The brand has also redeveloped its salad dressing recipes to contain more micronutrients to help "boost the body's immune system".
It has added a multivitamin and mineral blend, containing vitamins A, C, D, E, B6 and B12, which were "all proven to contribute to the normal function of the immune system", it said.
Each bottle of the new dressings, which will hit Tesco from 6 May, would contain "well over 100%" of the RDI of each vitamin, said Tigg's.
James stressed that despite the added micronutrients, there would be no impact on flavour, shelf-life or price.
The new recipe dressings will hit Tesco from 6 May.