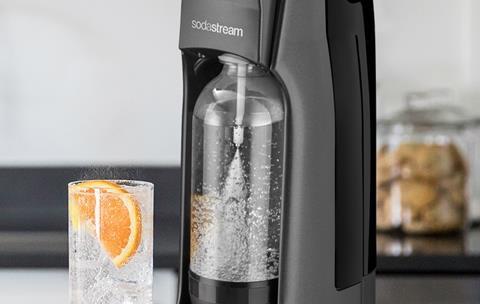 SodaStream has made its debut in the UK grocery market thanks to a deal with Asda.
The brand's Jet model (rsp: £89.99) and syrups (rsp: £3.99/440ml) have launched into the retailer's stores across the country.
It said the partnership would make it "easier than ever for more people to turn tap water into refreshing, sparkling water to enjoy from the comfort of their own home".
SodaStream UK general manager Tiago Alves said partnering with Asda would give "even more people the opportunity to discover the joys of making their own sparkling drinks". The brand said staying hydrated had "never been more important than it is today" and the Jet model was "the perfect choice for those looking to maintain a healthy lifestyle".
It comes as SodaStream also this week unveiled plans to switch its syrup bottles from plastic to metal, a move it said would remove around 200 million single-use plastic bottles from the soft drinks market by 2025.
The transition to metal was "a complex operations, marketing and commercial operation", said SodaStream, but metal was "the easiest and most efficient option currently available". It also plans to run entirely on clean energy by 2024.
Last year, its chairman, former CEO Daniel Birnbaum, was arrested on suspicion of insider trading violations, fraud and breach of trust ahead of the supplier's acquisition by PepsiCo in 2018. He was replaced by former deputy CEO Eyal Shohat.