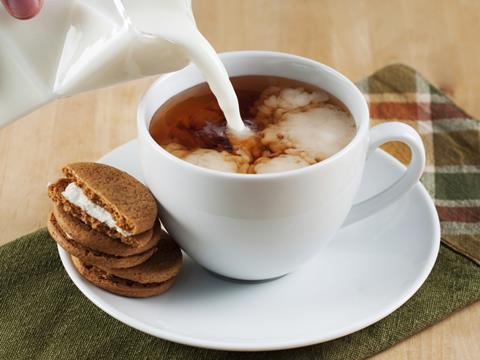 Suppliers are paying a two-year high for Kenyan tea - but deep discounting means shoppers are not splashing out any extra for their cuppa.

Intense price competition between retailers has pushed down the price of everyday tea bags, with the average shoppers are paying for large packs (80 bags-plus) at the big four falling 3% from £8.72 a kilo at the start of this year to £8.44 last week (24 July). Retail prices have dropped as supermarkets offered deals on brands including PG Tips, Twinings and Typhoo over the period, according to Brand View data, while own-label prices have remained generally static.

The decline comes despite a 51% year-on-year hike in the price of Kenyan tea, which is a key component of many everyday tea blends in the UK and gives the strength of flavour Brits want. And it is continuing to rise, with prices up 10.2% month on month. Volume and quality of Kenyan tea have fallen as a result of unfavourable weather, with production for the first five months in 2015 down 26% compared with the same period last year.

"The crop intake has fallen due to cold and dry weather conditions in some of the major producing regions," adds James Hutchings, data development manager at analysts Mintec.

Suppliers have also seen an increase in the price of Sri Lankan tea as a result of strong demand. While currently up just 2% year on year, the past month has brought a 10.2% hike.

The increase in the price of Kenyan tea follows relatively low prices for much of 2013 and 2014, and some suppliers are riding out the increases.

"Tea prices fluctuate with demand, and we are absorbing any temporary increases and have no plans to pass these costs on to the consumer," said one.

But another leading supplier said margins were being squeezed by the "price cut mode" adopted by some retailers, and that some smaller businesses would be finding the situation very difficult.

Suppliers will be hoping retail prices rally later this year when autumn and winter brings the seasonal increase in demand for tea in the northern hemisphere. They are also hoping the impact of Kenyan shortages will be mitigated by strong supply from India, which has enjoyed good weather conditions.

Looking at the wider tea market, average retail prices have risen 1.5% from January to July. This has been driven by hikes in own-label tea, and particularly premium infusions.

Generally, the price of fruit, herbal and green teas - an area of trade focus as consumer interest in everyday black tea wanes - has risen a modest 1.8% year on year. And it is clear to see why they are so popular with the trade; despite such a small increase they are selling at an average of £43.74 a kilo - five times the price of everyday tea bags.