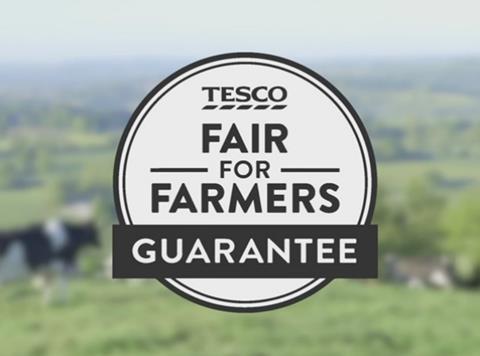 Tesco has unveiled a new 'Fair for Farmers Guarantee' logo on all of its fresh milk products in a bid to educate shoppers about its British provenance and support for dairy farmers.

The new labelling will begin to roll out on all the retailer's own-label fresh milk from this week. It will be supported by in-store communications from next week, which will play up the positive role Tesco plays in the dairy sector and the "fair price" it paid all of its dairy farmers, said commercial director for fresh food Matt Simister.

The guarantee's key messages are that Tesco promises to pay above the cost of production to farmers for their milk - regardless of the retail price, in addition to ensuring every cow is well cared for, and that every pint of milk is 100% British.

"Since we founded the Tesco Sustainable Dairy Group in 2007, we've been working in partnership with our farmers to ensure they have a sustainable long-term future," Simister said.

The TSDG had paid some £240m over the market price to its milk farmers since launch, he added, and the retailer will increase the number of farmers supplying the TSDG to around 800 this year - the largest group of dairy farmers working directly with a retailer.

"When customers buy our milk they want to know our farmers are fairly treated and their cows are well cared for, so the Fair for Farmers Guarantee on all our milk will give them peace of mind that they're supporting British farmers with every pint of milk they buy," he said.

The guarantee was "a simple way for customers to know that when they buy fresh milk from Tesco, they are helping to foster a better future for hundreds of British farmers," said TSDG farmer James Stephen.

"As a lifelong dairy farmer I've seen first-hand how important the stability and support from the retail industry is to help us plan for the future," he added.