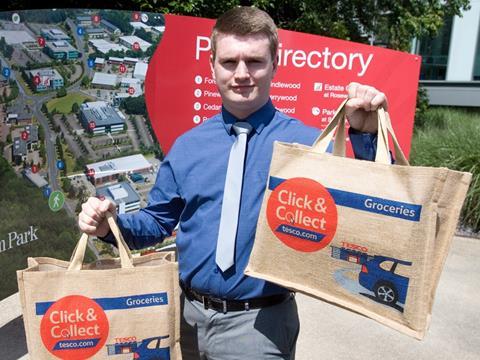 Tesco is to roll out dozens of collection points at business parks outside London as it steps up its trials of click & collect.

Chineham Business Park in Basingstoke is the first of 50 new non-store collection points to open this year in non-store locations, following trials at six Tube stations in London and pilots at schools, libraries and sports centres in York, London and Scotland.

The collection point at Chineham Park will open from 4pm to 7pm every weekday to target businesses at the site, with groceries picked in the Basingstoke store and transported in a temperature-controlled van. "Home delivery is really useful when people know they'll be in, but for those 'on the go' this service offers more flexibility," said Tesco Basingstoke store manager Paul Cavaliere.

"It's proven popular in London and I hope that our customers in Basingstoke will find it just as useful."

Asda, Waitrose and Sainsbury's are also currently experimenting with click & collect services outside stores but no retailer has yet launched a full rollout.