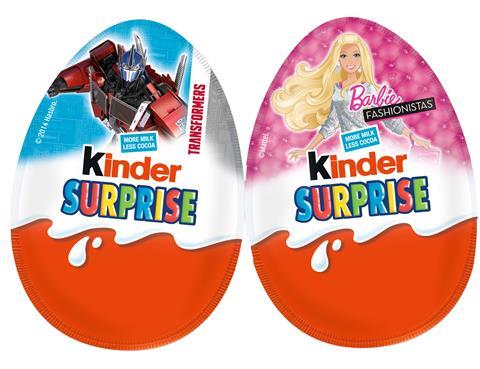 Ferrero is to expand its limited-edition Pink & Blue Kinder Surprise range with blue eggs featuring Transformers toys and pink eggs containing Barbie Fashionistas.
The confectioner also revealed Pink & Blue would be extended with two further limited-edition ranges over coming months – one with Marvel Avengers and Disney Fairies in December, and another with Sprinty cars and Fashion Dolls in June 2015.
Launched a year ago, Pink & Blue had achieved twice the anticipated sales, said Ferrero, which has claimed the eggs are not designed to be gender-specific but to help parents choose the most relevant product for their child.
Since September 2013, Pink & Blue had delivered 72% value growth to the Kinder Surprise brand, claimed Ferrero customer development director Levi Boorer. He acknowledged Pink & Blue had been controversial with some parents' groups - who said they were being marketed along gender lines – but claimed there had been "precious few" complaints from retailers, arguing that the toys has broad appeal.
Overall, the Kinder brand had added £18.5m in the children's confectionery category over the past year, said Boorer.
Ferrero is backing Kinder with a £10m marketing spend that includes £6.8 on Kinder Chocolate and a £3.2m push for Kinder Surprise to coincide with the rollout of the Transformers and Barbie Fashionistas eggs.
The confectioner is also adding seasonal Christmas lines to the Kinder range, including a mini mix (rsp: £2.49/79g) and new moulded figures (rsp: £1.24/pack of 3 x 15g figures, or £1.99/pack of 6).
Ferrero/Raffaello
Ferrero is investing £7m in its praline portfolio, ramping up activity around Ferrero Rocher and its sub-brand Raffaello.
Next month, it is launching Golden Gallery, a luxury assortment box that contains individually wrapped chocolates including Ferrero Rocher, Ferrero Rondnoir, Ferrero Cappuccino, Ferrero Manderly, Mon Cheri, Ferrero Tenderly Nougat and Ferrero Tenderly White. It is available in two sizes, a 22-pack (rsp:£7.99) and 45-pack (rsp: £14.99).
Ferrero is also rolling out its biggest marketing campaign to date for its pralines ranges, with 12 weeks of advertising across TV, cinema and VOD for Ferrero Rocher. For the first time, it is running a standalone £1m four-week outdoor campaign for its "lighter, everyday" Raffaello brand, adding the range had reached sufficient scale to justify the investment.
The advertising will be supported by sampling and in store activity.