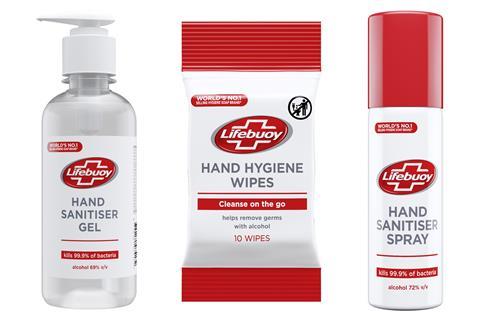 Unilever is bringing its international hygiene brand Lifebuoy back to UK supermarket shelves.
The 130-year-old antibacterial brand, which was withdrawn from the UK in the 1990s, will return with a five-strong range of hand hygiene products.
They are: Hand Hygiene Wipes, Hand Sanitiser Spray, Liquid Handwash, Classic Red Bar Soap and Moisturising Cream & Anti-bac (rsp: £1-£3.50).
Unilever will mark the launch with a £12m campaign it said would educate consumers on how to reduce the spread of infection in a post-lockdown Britain.
The fmcg giant said it hoped to double the rate of hand washing and firmly establish hand sanitising as a daily habit for Brits. It will raise awareness of the importance of hygiene through an above the line campaign, which will remind consumers to wash their hands at "high-infection moments", with adverts on petrol pumps, bus stops and in train stations.
Unilever plans to launch sanitiser stations in selected stores and in "high-infection areas" such as coffee shops and cinemas, and has pledged to ensure hygiene kits are made available to the most vulnerable groups in society.
It will also work with more than 4,000 schools, providing teachers with "educational materials and stickers to prompt children to wash their hands through to fun and engaging games which teach children how easily germs can spread".
Unilever VP for beauty and personal care Chris Barron said the reintroduction of Lifebuoy to the UK had "never been more important".
"Lifebuoy has been aiming to 'make hand washing commonplace' since it was launched 130 years ago and that ambition remains as important in 2020 as it was then," he added.