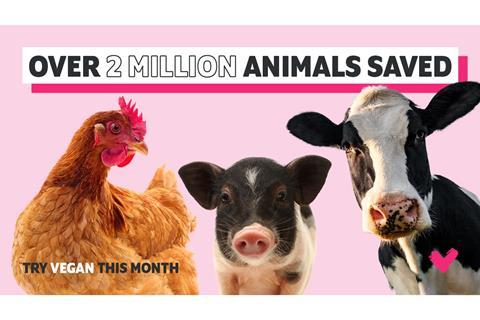 As many as a million-and-a-half people in Britain adopted a vegan or vegetarian diet as a result of this year's Veganuary, the campaign's official review has claimed.
A total of than 582,000 people signed up to the campaign's website this year across 209 countries and territories – the campaign's "biggest year yet".
But the actual number of people who ditched animal-derived foods for plant-based alternatives was thought to be much higher, the campaign suggested.
It cited a YouGov poll of 4,242 adults in Great Britain undertaken in February that showed at least 5% of Brits had either followed a vegan diet for a whole month of for some of the month.
This equated to about three million people, Veganuary said, which also cited Kantar data – also published in February – that suggested half of Britons (equating to 1.5 million people) intended to continue with their dietary changes after January as a result of the 'Veganuary Effect'.
The campaign review added that 825 new vegan products and menu options were launched during Veganuary 2021, with a raft of NPD adding up to 566 new vegan products launching into retail, as well as 259 new vegan menus being added to chain restaurants.
Veganuary was said to have reached more than 224 million people through its social media channels, with an additional 170 million views of the hashtag #Veganuary on TikTok.
Product launches included expansions of supermarket own-label ranges, as well as branded NPD from the likes of Heinz, Mars and Nescafé. among others.
Higgidy launched both a vegan quiche and No Pork Pies ahead of Veganaury, and said it sold more than 38,000 of them, accounting for 7% of all Veganuary sales, it claimed.
Meanwhile, M&S sold one of its No Salt Beef Pretzel Rolls every 30 seconds, and its Plant Kitchen Vegan Cookie was its most popular single cookie.
In foodservice, Leon's newly launched Vegan Sweet Carolina BBQ Burger became its bestseller, and Pret a Manger's Meatless Meatball Hot Wrap was its first ever new product to become a top-five bestseller on launch week.
Veganuary said this year's event spared more than two million animals from suffering. CEO Ria Rehberg added the month "gave us a glimpse of what is possible".
She said this was: "A world where plant-based food is the mainstream choice, where the word vegan is associated with something positive and desirable, where major food companies are investing millions to switch to more sustainable animal-free options and are telling the world that this is the food of the future – and the food of today."