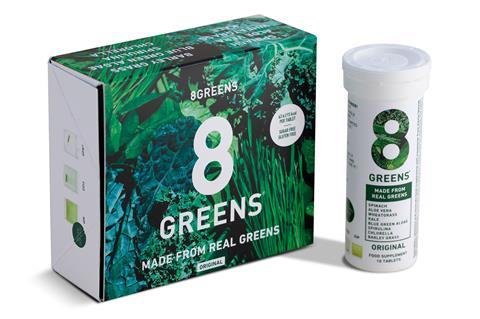 Wellness brand 8Greens has made its UK debut
The brand, which bills itself as a "green, zero-sugar Berocca" has launched its effervescent tablets into Selfridges, Daylesford and Amazon.
The tablets themselves contain nutrients from eight greens – spinach, kale, aloe vera, wheatgrass, blue green algae, barley grass, chlorella and spirulina – and were produced with "minimal environmental impact" according to 8Greens.
The tablets contain 15 calories per serving and offered "an easy and convenient way to get greens on the go" said the brand.
In the US, the 8Greens range has proven popular with celebrities including Kim Kardashian West, the Obamas, Drew Barrymore and more, while in the UK it has been a hit with influencer and skincare expert Caroline Hirons.
8Greens founder Dawn Russell said the products' US success was "incredible", but she wanted to launch the brand in the UK having lived in London for the past 20 years.
She added that, as a working mother, she understood the difficulty of getting greens into the diets of both herself and her family, but 8Greens made that easier.