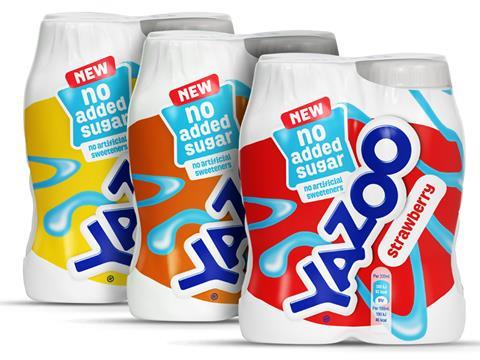 FrieslandCampina is responding to the ongoing sugar debate by launching a new variant of its Yazoo flavoured milk that contains no added sugar.

Yazoo No Added Sugar will go on sale across the mults in September, in strawberry, banana and toffee flavours sold in 200ml single-serve packs (rsp: 50p) and 200ml four-packs (£1.60), supported by a £500,000 marketing spend.

It was the first milk drink of its kind to contain only naturally-occurring sugars and no artificial sweeteners, Friesland claimed.

Targeted at children and their parents, the new range was the culmination of two years of research and extensive flavour testing, added FrieslandCampina UK MD Tracey Barney.

The dairy co-op had used an advanced manufacturing process at its factory in Belgium, which split lactose from semi-skimmed milk into glucose and galactose, Barney said. This created a taste four times sweeter than lactose alone, and meant there was no need to add any extra sugar or artificial sweeteners to the product.

Yazoo No Added Sugar contains a total of 4.6g of sugar per 100ml, compared with 9.4g in a standard Yazoo bottle, and 12.9g in a standard bottle of rival Frijj; Frijj's reduced sugar version contains 5.8g per 100ml.

"We wanted to create a milk drink that the eight million families who didn't buy their children dairy drinks would want to buy regularly, rather than just as a treat," said Barney. "Yazoo No Added Sugar is the result of a £1m investment and we are delighted with the feedback we have received from parents with children."

Friesland's announcement came in the same week Müller said it would expand its 40% less sugar Frijj to include two new flavours, and a week after Arla launched an on-the-go 250ml Cravendale SKU.
The move was welcomed by the NFU, who called on supermarkets to reposition fresh milk in their stores as a healthy alternative to fizzy drinks.
"There is huge potential in repositioning milk to give shoppers an opportunity to choose fresh nutritious milk over sugary soft drinks in supermarket chillers, when it is sold alongside sandwiches and snacks," said NFU dairy board chairman Michael Oakes.
"With dairy farmers enduring the longest dairy downturn in recent history and even more farmgate milk price cuts announced in the UK in the past few days it's more important than ever that we look at new and innovative ways of selling milk and dairy products," he added.